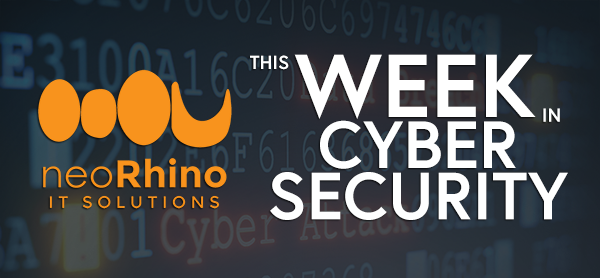 Mozilla's Firefox of the Future, Update on Apple's Group FaceTime privacy mess, Samsung's "Refridgerdating," and more in This Week in Cyber Security: where we highlight a select few of each week's new cyber security stories and share them here. Don't forget to follow our daily blog and social media for more in-depth cyber security and technology news.
The Week of February 8th, 2019:
Mozilla is looking to launch Project Fission, a complete overhaul of their Firefox web browser, and according to a Firefox project engineer, "aims to build a browser which has layers of built-in defense against potential future vulnerabilities." This month, Mozilla is looking to take the first step in this new transformation as a response to not only patch side-channel attacks like Spectre & Meltdown, but to pro-actively defend against future malware and hacking attempts. (CNET)
Google released a new Chrome extension called Password Checkup on Tuesday that will give the end user a warning if either the username, password, or a combination of the two have been compromised in any data breaches. The tech giant stated that their database that the extension will use as its reference contains over 2.2 billion stolen credentials from over 10 years of research. Google assures that the Password Checkup tool will not save or view your passwords to match it with its database. (The Verge)
UPDATE: Apple released an update to fix the FaceTime security bug in iOS 12.1.4, which after applying the patch reactivates Group FaceTime. The app will remain disabled for those running iOS 12.1.3 or earlier. Apple also discovered a flaw within their Live Photos feature while working on the Group FaceTime, and while the extent of that flaw isn't certain, that problem is rectified in the 12.1.4 update as well. (Engadget)
Samsung is creating an app for their smart-connected Family Hub Refrigerator called "Refridgerdating." The concept is that inside the fridge is a camera that tracks what ingredients you place inside. The user can use the app to take a picture of the inside of their fridge and users of the app can swipe left or right depending on how they favor what's in their fridge, a 'la Tinder. If you do not have the Family Hub Refrigerator, users of the app can also simply upload of picture of their fridge contents to participate. Yes, this is real. (CNET)
As privacy is a hot button for Apple right now, the company is also cracking down on companies that are using screen recording software of user devices without user permission. The company updated their App Store Review Guidelines with strict rules about clarifying and protecting data privacy or risk having their app removed from the App Store through "immediate reaction." This will result in Apple being more proactive about on-screen recording code in third-party apps and some current apps will need to be overhauled or even cease to function until they abide by the new guidelines. Regardless, this is a win for data privacy. (The Next Web)
At neoRhino, cyber security defense is just one of the many ways we protect small to medium-sized businesses and keep them secure should disaster strike. Call us now at 281-779-4850 to schedule a FREE consultation or visit our Products & Services page to learn more about us.