A HUGE thank you to everyone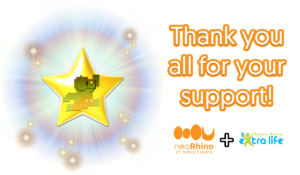 who contributed to our Extra Life 2017 goal & watched the live stream on Saturday. We understand that 2017 has been a rough year for everyone with all that has happened, both as individuals and as businesses, so every little bit that you contributed to helping the sick children at the Texas Children's Hospital goes a very long way.
We are going to keep raising what we can so it's not too late to help out by donating to any of our roster's goals here: https://www.extra-life.org/team/neorhino. The deadline for the $25+ T-Shirt donation offer* will be on December 1st, 2017 so we can place the order and have the shirts delivered in a timely manner.
We may also hostmore streams for Extra Life so be sure to follow us on our Twitch channel to know when we go live! twitch.tv/neorhinoITsolutions Thank you all once again for watching and/or donating. See you next year!
*100% of all donations go directly to Extra Life and the Texas Children's Hospital. T-Shirt giveaway for U.S. Residents only and for contributors of $25 and above before December 1st, 2017.