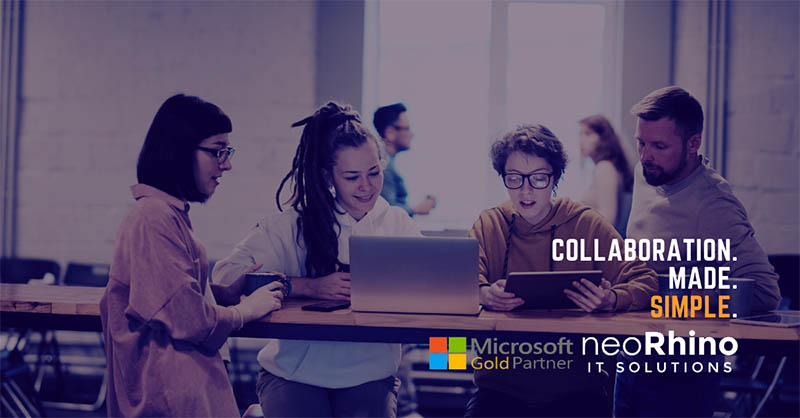 Collaboration and communication are key components of productivity in the modern enterprise.
Productivity is the lifeblood of any business, and Microsoft 365 provides the tools necessary to bring collaboration, communication, and productivity to everyone in a business, no matter the size.
Microsoft 365 is The Standard.
The Microsoft-certified consultants of neoRhino IT Solutions recommend Microsoft 365 as it is the standard for office productivity software. Do you have teams that work together on tasks, documents, financing, or presentations? Then, having neoRhino's Microsoft Gold-certified IT consultants equip your business with the collaboration tools of Microsoft 365 will be beneficial to your growth.
If you are new to Microsoft 365, or are looking to make your adoption of Microsoft 365 as Easy as 1-2-3, we have a series of blogs and downloadable whitepapers that you can find by clicking the banner below.
[banner]
What are the features of your license?
neoRhino provides FREE Consultations for businesses looking to adopt the best Microsoft 365 configuration for your business needs or to migrate from an outdated on-premise suite or alternative productivity software that may not be getting the job done for you. We typically recommend Microsoft 365 Business Premium for most small to medium-sized organizations, but will guide you through which suite is perfect for your business.
[banner]
What is included with Microsoft 365 Business Premium?
Desktop Versions of Microsoft 365 Apps for PC/Mac

Fully installed and always up-to-date versions of Microsoft Outlook, Word, Excel, OneNote, Teams, and PowerPoint for Windows or Mac OS, as well as Access and Publisher for PC only.
Real-time co-authoring for multiple users to work in the same document simultaneously.

Web & Mobile Versions of Office Apps

Online versions of Outlook, Word, Excel, PowerPoint, and OneNote to use in your web browser of choice or for when you are away from your office computer.
Always up-to-date mobile app versions of Outlook, Word, Excel, PowerPoint, OneNote for iOS and Android devices on up to 5 phones and 5 tablets.
Real-time co-authoring so multiple users can work in the same document, simultaneously.

Teamwork & Communication with Microsoft Teams & SharePoint

Host online meetings and video calls for up to 10,000 attendees.
Chat with your team from your desktop or through the mobile Teams app.
Bring together all your team's chats, meetings, files, and apps so you can easily connect and collaborate from one place.
Create team sites to share information, content, and files throughout your intranet using SharePoint so you can easily collaborate on projects.

Email & Calendar with Microsoft Exchange

50GB mailbox email hosting using your own custom domain name (e.g. yourname@yourcompany.com) and send attachments up to 150 MB in size.
Business-class email on phones, tablets, desktops, and the web.
Manage your calendar, share available meeting times, schedule meetings, and get reminders. Respond to invitations with ease using shared calendars.
Set up new user email accounts, restore deleted accounts, create custom scripts, and more from anywhere.

File Storage and Sharing with Microsoft OneDrive (storage capacity and features vary)

1 TB of OneDrive storage for file storage and sharing on PC, Mac OS, and mobile devices.
Work on a file and save it directly to OneDrive or SharePoint; your changes are updated across your synced devices.
Share files with external contacts by providing access or guest links.
Securely share documents and send emails so only those with the right permissions can access the information.

Industry-standard Security & Compliance

Protect your email against spam, malware, and known threats with Exchange Online Protection.
Meets key international, regional, and industry-specific standards and terms, with more than 1,000 security and privacy controls.
Control who and when someone has access to your business information with security groups and custom permissions.
Create password policies that require users to reset their passwords after a specified number of days.

Tools to Build and Manage Your Business through Microsoft 365

Plan schedules and daily tasks with Microsoft Teams.
Make it easier for your customers to schedule and manage appointments with Microsoft Bookings.
Get a lightweight CRM solution to nurture customer relationships with Outlook Customer Manager.
Send invoices on the go with Microsoft Invoicing.
Have real-time accurate mileage tracking and reporting in the palm of your hand with MileIQ.
Build automated workflows between apps and services to get notifications, synchronize files, collect data, and more with Power Automate.
Microsoft 365 Delivers Cloud Solutions
Microsoft 365 offers clear advantages for any type of business. Whether you need to boost your collaborative abilities, improve productivity, sharing documents, or ensure your data stays secure, Microsoft 365 delivers solutions that make the workflow of a business seamless.
The strength of Microsoft 365 lies within its cloud capabilities, allowing you to work from anywhere with an internet connection. Microsoft 365's automated cloud saving features ensures that you have access to the latest version of your files and makes it easy to collaborate and retrieve them at any time.
Microsoft Office 2007 is now End of Life
If your business is still using Microsoft Office 2007, you are at risk. Similar to the Windows 7 EOL deadline to upgrade to Windows 10 , Office 2007 reached the End of Support from Microsoft in October 2017. What does this mean?
No new security updates, leaving vulnerabilities for security from hackers
No new features, updates, or bug fixes
No Microsoft Support to fix issues
No online technical content updates
It will be more difficult to ensure your business is secure and protected using outdated software. Without the proper mobility and collaboration tools, your company can't be at its most productive. That's why migrating to a Microsoft 365 solution is your best answer for continuous workflow and support.
The Applications and Services of Microsoft 365 Defined:
Microsoft Outlook: Microsoft 365's solution for managing email and an appointment calendar.
Microsoft Word: The standard for word processor programs and a major source for documentation.
Microsoft Excel: Spreadsheet creation for a multitude of inventory and data analysis projects.
Microsoft PowerPoint: Create, display, and disseminate information in formats ranging from basic slides to animation and video.
Microsoft Access (PC Only): A database management system that combines software-development tools with a graphical user interface and formats that serve your business best.
Microsoft Exchange: Microsoft's email server solution that runs on a server to manage all your emails. Incoming & outgoing messages, saved drafts, calendars–everything is done through Microsoft Exchange and stored on the server.
Microsoft OneDrive: Provides users with up to 1TB of cloud storage in the default suite. Edit and share documents, photos, and more from anywhere, on all your devices.
Microsoft SharePoint: Provides a business with applications for back end infrastructure management. For example, it can be used to host smaller sites for teams or divisions.
Microsoft Teams: a chat-based workspace that integrates people, content, and tools into a single platform. Teams makes it easier to share documents through SharePoint and via a single chat client for simultaneous collaboration.
neoRhino + Microsoft 365 = The Ultimate Managed Productivity Solution
Working locally and in the cloud, Microsoft 365 will make collaborations among your workforce extremely beneficial and more efficient than ever before. neoRhino IT Solutions is here to ensure your Microsoft 365 migration is as smooth as possible, your software licenses are properly managed, and your business has the seamless collaboration tools you need.
Looking for a Non-Profit Microsoft 365 Solution through neoRhino? Click here!
Fill out the form above for a FREE assessment of the right Microsoft 365 solution for your business by our Microsoft Gold-certified consultants or give us a call at (281) 779-4850. neoRhino can power up your business for Microsoft 365 today!