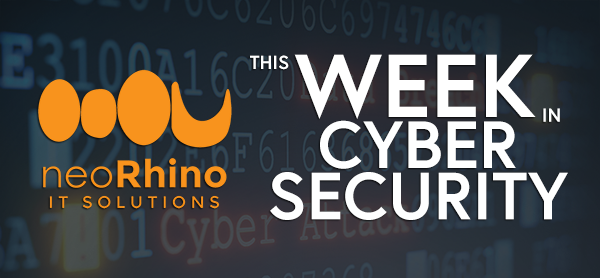 Google in hot water with the GDPR, the Girl Scouts embrace Cyber Security training, a nasty Mac Trojan malware attack, and more in This Week in Cybersecurity: where we highlight a select few of each week's new cyber security stories and share them here. Don't forget to follow our daily blog and social media for more in-depth cyber security and technology news.
If you would like to be the first to know about our Week in Cybersecurity reports and receive a FREE Webcam Cover, sign up here.
The Week of January 25th, 2019:
Google was fined $57 million, or 50 million euros, for violating the data privacy rules in effect by the GDPR (General Data Protection Regulation). The GDPR strives for tech companies to have transparency of how they are collecting and using personal information. Google failed to comply with their regulations and did not receive permission to use said personal data for targeted ads in that region. (Recode)
Microsoft sent out support notice updates to users reminding about the ending of Windows 10 Mobile support (a.k.a. their Windows Phone OS) this year. This notice included the following statement: "With the Windows 10 Mobile OS end of support, we recommend that customers move to a supported Android or iOS device. Microsoft's mission statement to empower every person and every organization on the planet to achieve more, compels us to support our Mobile apps on those platforms and devices." Using devices with operating systems that cease update patching is always a risky venture so consider an alternative device sooner than later if you are still using a Windows Phone. (ZDNet)
Upcoming changes to Google Chrome may break ad blockers that are currently being used in its popular browser, including uBlock Origin, Ghostery, and NoScript. Google explicitly stated that they do not want to disable content blocking and that they are trying to keep the affected extensions working, but it is causing alarm for protecting users against security threats. (CNet Security)
Over one million Mac users were infected by the Shlayer Trojan, a malware attack that infected its victims through an adware campaign. The domain had reportedly been active for months before the attack and was triggered over 5 million times per day, stirring up $1.2 million in damages during its run. (com)
Hewlett-Packard Enterprise (HPE) and the Girl Scouts of Nation's Capital are creating a new cyber security educational program to help create awareness among young girls online, including an interactive game. Called Cyber Squad, the game will guide players through real-life online scenarios and simulate what will result from their choices, both in safe and unsafe situations. Completing the program will earn the Girl Scout an embroidered patch certifying how savvy they are in cyber security. (InfoSecurity Magazine)
At neoRhino, cyber security defense is just one of the many ways we protect small to medium-sized businesses and keep them secure should disaster strike. Call us now at 281-779-4850 to schedule a FREE consultation or visit our Products & Services page to learn more about us.