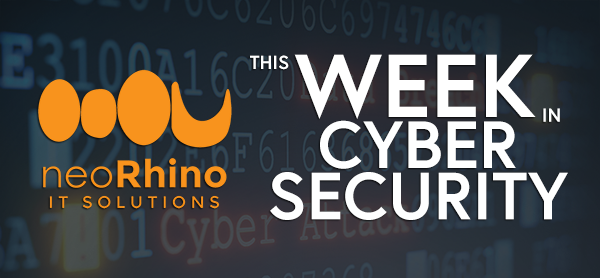 Shocking 2018 Disaster Recovery stats, a Florida ISP company's encounter with ransomware, and more Facebook security debacles in This Week in Cybersecurity: where we highlight select top cyber security stories from each week and share them here. Don't forget to follow our daily blog for more in-depth cyber security and technology news.
If you would like to be the first to know about our Week in Cybersecurity reports and receive a FREE Webcam Cover, sign up here.
The Week of March 8th, 2019:
Adding a phone number for Two Factor Authentication, or 2FA, is designed to protect you when someone hijacks your login credentials, not for it to be available for hackers and stalkers. Facebook is under scrutiny yet again for not only leaving 2FA-accessed phone numbers exposed for users to search for your profile, but also by giving those confidential numbers away for targeted advertising. Worst of all, the former of those problems you cannot opt out of if you use 2FA on Facebook. (CNET Security)
The hits keep on coming as a recent study in the UK showed that major Android apps are still sending data for targeted ads through Facebook, even if the user is not logged in or does not have a Facebook account at all. Some of the more popular apps that were caught utilizing this practice included Yelp, Indeed, Duolingo, and the official King James Bible App. (The Verge)
A few reported 2018 Disaster Recovery Stats to consider: (CNN, Dynamic Technologies, SC Mag)

75% of small businesses do NOT have a disaster recovery plan in place.
More than 50% of downtime events for businesses lasted longer than a full work day.
Human error accounted for 52% of data loss incidents. 48% of newly-hired employees did not receive any type of cybersecurity training.

Many web sites you visit everyday are built through WordPress. However, it was discovered in a report that WordPress accounted for 90% of all hacked websites in 2018, up 7% from the previous year. You may think the problem here is by using outdated versions of the software. In this case, it's from using questionable extensions and third-party plug-ins. (Godaddy - Hacked Website Trend Report, 2019)
A Florida ISP company, Network Tallahassee, was the victim of a nasty ransomware attack, reportedly costing them $6,000 in ransom. The attack left the company out of action for nearly a week while they waited for the hackers to send the tools to decrypt the attack. Thankfully the company stated no customer data was compromised, but as they restore their fractured servers the company stated "If they hackers deliver" they would be at least partially running soon. That is "if the hackers deliver," which is never a guarantee. (CSO)
neoRhino's Remote Managed Services and Advanced Security Packages are here so you can focus on your daily duties. You can relax knowing that we are here to protect you. Call us at (281) 779-4850 for a FREE consultation and we can help your business today.