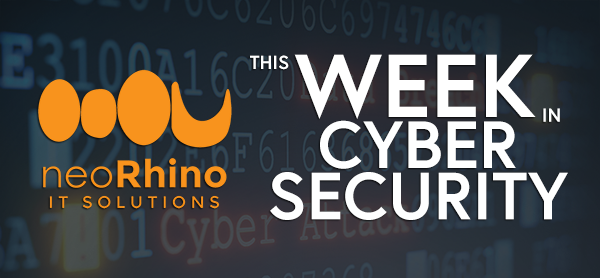 Buca Di Beppo gets breached, Chrome and Firefox's fight against permission spam, "evil cursors," and more in This Week in Cybersecurity: where we highlight select top cyber security stories from each week and share them here. Don't forget to follow our daily blog for more in-depth cyber security and technology news.
If you would like to be the first to know about our Week in Cybersecurity reports and receive a FREE Webcam Cover, sign up here.
The Week of April 5th, 2019:
Earl Enterprises, a parent company of several enterprise-operated restaurant chains, has been the victim of a major data breach. Potentially affecting card payments since May of 2018, the breach potentially affected several of the chains within the Earl Enterprises umbrella. These restaurant chains include: Planet Hollywood, Mixology, Earl of Sandwich, Tequila Taqueria, and Buca di Beppo, with the Houston Buffalo Speedway location noted to be one of the affected restaurants. Earl Enterprise has publicly listed which locations may had been affected on their website, which includes their apology and statement on the matter. (Houston Chronicle)
Have you ever heard of an "evil cursor?" Google has patched a bug within Chrome that tech support scammers were exploiting to utilize an "evil cursor," which tricks the user into believing the have control of their mouse, but hackers (dubbed "Partnerstroka" by Malwarebytes) of the exploit would  hijack the mouse cursor and switch it with a cursor that is actually in the corner of a transparent bounding box. This prevents the user from accurately closing and/or leaving browser tabs, fooling victims into paying for unnecessary tech support. One hacker exploiting this bug was arrested after scamming users out of over $3 million through the course of four years. (Chromium)
Permission spam is a legitimate issue when browsing today, such as when a site asks permission to allow notifications or to enable cookies. Mozilla and Google have begun tests to block permission requests through their Firefox and Chrome browser as a recent study showed that 97% of users say no to those requests and more likely leave those sites. This also include clamping down on browsers that use progressive web apps (PWAs) and would work with various other privacy actions that browsers have initiated, such as built-in ad blockers and tracking blockers. This may prove to be challenging for website developers, but the numbers don't lie. (CNet Security)
Arizona Beverages was also the victim of a Ransomware attack this week. The popular drink company known for its variety of tea and juices was hit with a malware attack that affected more than 200 of their workstations. The attack displayed a message on their screens stating, "Your network was hacked and encrypted." Arizona's IT department was burdened with rebuilding their entire network and the company could not process orders in the meantime, losing millions of dollars in sales. It was found that most of the company's computers were running outdated Windows operating systems that had not been patched in years. (Tech Crunch)
neoRhino's Remote Managed Services and Advanced Security Packages are here so you can focus on your daily duties. You can relax knowing that we are here to protect you. Call us at (281) 779-4850 for a FREE consultation and we can help your business today.