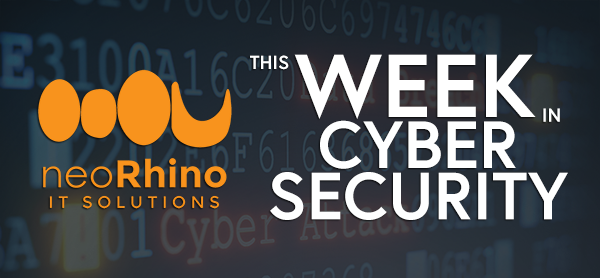 A series of HIPAA Compliance violations cost a company millions, FireFox woes, how aware the US is of a cyber-attack and more in This Week in Cybersecurity: where we highlight select top cyber security stories from each week and share them here. Don't forget to follow our daily blog for more in-depth cyber security and technology news.
If you would like to be the first to know about our Week in Cybersecurity reports and receive a FREE Webcam Cover, sign up here.
The Week of May 10th, 2019:
Touchstone Medical Imaging has been charged with a $3 million fine for multiple HIPAA (Health Insurance Portability and Accountability Act) violations that stemmed from a large data breach that exposed more the Personal Health Information (PHI) of more than 300,000 patients. Patient names, birth dates, social security numbers, and addresses may have been affected, and since the fine, Touchstone is developing an enterprise-wide risk analysis and new policies to comply with HIPAA laws. (HealthImaging.com)
Major ransomware RobbinHood is on a tear again, and this time it has targeted the entire city of Baltimore, MD. While city officials have stated that the attack did not damage any critical public safety systems but as of today are still in the clean-up process. The city IT director, Frank Johnson, confirmed that an "internal change to the firewall" was applied and they were able to isolate the threat before any harm was done. (IBTimes.sg)
This week Mozilla fixed a major flaw within its Firefox browser that basically broke users' browser extensions, including ad-blockers and tracker blockers. The flaw resided within an expired security certificate, which if left open for long enough could affect major software updates and even how websites are encrypted. (CNET Security)
According to a study by Wakefield Research and Webroot, only one in every three American users know what the most common forms of a cyber-attack are: malware and phishing, or how they even work. The study also stated the three biggest mistakes in cybersecurity the people involve made, which were:

Reusing passwords on multiple sites (63%)
Not using proper privacy settings on social media (64%)
Falling for Phishing Attacks (53%) - (Wakefield / Webroot / InfoSec Magazine)
neoRhino's Remote Managed Services and Advanced Security Packages are here so you can focus on your daily duties. You can relax knowing that we are here to protect you. Call us at (281) 779-4850 for a FREE consultation and we can help your business today.