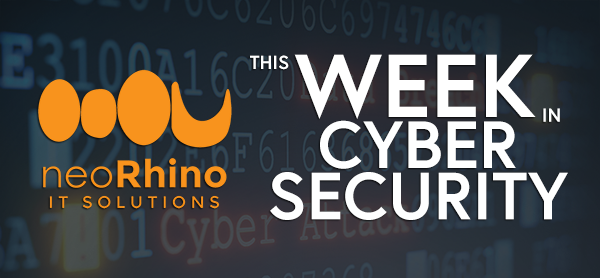 A BEC Scam costs a church millions, a new Windows threat to rival WannaCry, new alarming (lack of) cybersecurity awareness stats, and more in This Week in Cybersecurity: where we highlight select top cyber security stories from each week and share them here. Don't forget to follow our daily blog for more in-depth cyber security and technology news.
If you would like to be the first to know about our Week in Cybersecurity reports and receive a FREE Webcam Cover, sign up here.
The Week of May 31st, 2019:
If you have received an email from the "Office 365 Team" tread very carefully as a new particularly nasty phishing scam is making waves across the world. The attack claiming to be a "medium-security alert" advises its targets that an "unusual amount of file deletion" has occurred, which prompts them to login to their Microsoft account to review the activity. The link in the email leads to a fake Microsoft Office login site that looks almost exactly like the real site (it's even hosted on Azure!), where after entering their credentials, the redirected page steals their credentials before sending them to the real Office site to login again. Always check the web address and domain of the email sender as well as the website before divulging any personal information. (Bleeping Computer)
Another tale in exploitation of older operating systems has hit the news in the form of a new vulnerability called BlueKeep. This new flaw resides within the Remote Desktop Protocol (RDP) service in older Windows OS systems and has the power of spreading in similar fashion to how WannaCry and NotPetya were exploited in 2017. Thankfully as of now, no attacks have occurred from the vulnerability and patches for various OS systems, including Windows 7 and XP, have been deployed. However, since the flaw has found to be wormable and can be made to self-replicate, patches should be applied sooner than later. (ZDNet)
Remember when news aggregator Flipboard was pre-installed on virtually every Samsung Android device? Unfortunately, the app and its company have been the victim of a data breach. A security incident occurred that gave intruders access to the company's stored information database, including access to user passwords and more. Thankfully, Flipboard has reset all customer passwords, whether they have been impacted or not, and claim that unless you have not changed your password since March 2012, their bcrypt password-hashing algorithm should keep them safe. But to be honest, if a user hasn't changed their password login since 2012, that's another discussion to have altogether. (Engadget)
The Saint Ambrose Catholic Parish church has been the victim of a BEC Scam attack. The BEC (Business Email Compromise) scam targeted the church as they are currently going through a major renovation and were making payments to a construction firm. The church was not aware of the misappropriation until they received alerts from the firm that they hadn't received payment for two months of work, totaling over $1.7 million. FBI researchers discovered that their email system was breached, routing the funds to the attacker instead of the construction company, presumably through a phishing attack. Fortunately, only their email system was targeted and no personal data were compromised, but the church resorted to filing an urgent insurance claim to recoup the stolen funds. (InfoSec Magazine)
The third annual State of Email Security Report has been released, surveying IT decision makers around the world and unveiling several alarming new stats about the (lack of) cybersecurity awareness which include:

94% of respondents experienced phishing and spear-phishing attacks within the last 12 months, of which 55% also experienced an increase during that same period.
Impersonation phishing attacks rose by 67% in the last 12 months.
28% of business suffered lost customers from impersonation attacks, 29% resulted in a financial loss, and 40% lost data of any kind.
Ransomware attacks are up 26%.
50% of respondent victims reported having downtime for 2-3 days, and just under 33% experiencing 4-5 days of downtime.
neoRhino's Remote Managed Services and Advanced Security Packages are here so you can focus on your daily duties. You can relax knowing that we are here to protect you. Call us at (281) 779-4850 for a FREE consultation and we can help your business today.