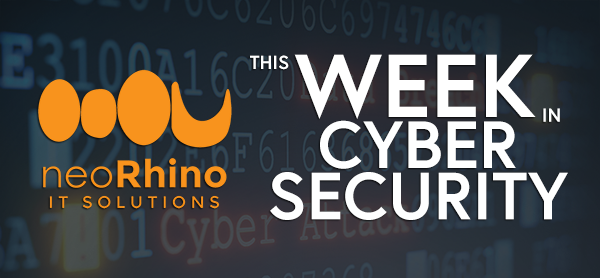 Memorial Hermann accidentally exposes PHI, #FacebookDown (again), the alarming rise of IT internal threats, and more in This Week in CyberSecurity: where we highlight select top cyber security stories from each week and share them here. Don't forget to follow our daily blog for more in-depth cyber security and technology news.
If you would like to be the first to know about our Week in Cybersecurity reports and receive a FREE Webcam Cover, sign up here.
The Week of July 5th, 2019:
The Memorial Hermann Health System stated this week that a document containing over 500 patients' Protected Health Information (PHI) were "inappropriately" disclosed in an email attachment. The attachment contained patient names, payment methods, insurance info, and medical record numbers. Since the announcement, Memorial Hermann has notified the patients they believe have been impacted and are reviewing their privacy policy as well as offering a free credit monitoring service to those involved. (KHOU-11 News, Houston)
Another week, another social media platform security concern. This time, it's the fledgling TikTok service that is back under the magnifying glass for children's privacy. The UK is now after them for not only their lack of obtaining parental consent before gathering data on users under the age of 13, but for failing to delete the personal data they have gathered since being first under the scrutiny in the US. This violates the FTC's Children's Online Privacy Protection Act (COPPA) still, which the first instance required to pay out $5.7 million, publish online safety videos, and create comment filters for added privacy. (CNET Security)
Smart Home and IoT (Internet of Things) manufacturer Orvibo has been the victim of a data breach, compromising its database containing over 2 billion records. The breach was discovered by vpnMentor, a cybersecurity firm, and divulged that the attack affects nearly all of Orvibo's devices, including home security cameras, AC control units, and smart lighting equipment. Information believed to have been exposed includes precise geolocation, login credentials and payment details. (PYMENTS-dot-com)
Facebook and Instagram suffered from another worldwide outage this week, which cause speculation that the social media juggernaut was suffering from another DDoS attack. Causing the hashtags #facebookdown and #instagramdown to trend worldwide, it turns out that the outage was an unplanned result of routine maintenance that prevented users from sharing pictures and videos. It took Facebook roughly 10 hours to fully resolve the outage. (SEJ)
A set of new IT Pro studies has been conducted by Gurucul, which sheds some alarming details about the rise in internal threats. Here are some notable stats from those reports:

Out of 320 IT pros that were surveyed, 1 in 10 said they harbor as much info from their employer before making their exit.
15% said they would alter or delete files, and even change passwords upon leaving a company.
91% believed the feel vulnerable to insider threats and 73% feel that insider threats have been more frequent in the past year alone. (TechRepublic)
neoRhino's Remote Managed Services and Advanced Security Packages are here so you can focus on your daily duties. You can relax knowing that we are here to protect you. Call us at (281) 779-4850 for a FREE consultation and we can help your business today.