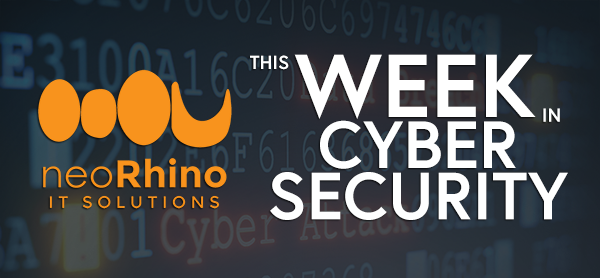 A large ransomware attack hits dentistry facilities in Wisconsin, two sketchy Android apps you should delete, new cybersecurity stats you need to know and more in This Week in CyberSecurity: where we highlight select top cybersecurity stories from each week and share them here. Don't forget to follow our daily blog for more in-depth cybersecurity and technology news.
If you would like to be the first to know about our Week in Cybersecurity reports and receive a FREE Webcam Cover, sign up here.
The Week of August 30th, 2019:
Ransomware attacks continue to spread like wildfire, and the latest large-scale attack had dental practices in its targets. This week, the companies of Percsoft and the Digital Dental Record had their software infected by a ransomware attack, locking them out of being able to connect to nearly 400 individual medical offices. According to ZDNet, the ransomware strain is known as Sodinokibi, and prevents the two medical companies from record deliveries, such as X-Rays. Percsoft and Digital Dental Record have contacted the FBI about the attack, but the case-by-case mitigation continues. (CNN)
If you are a user of the movie ticket subscription service MoviePass, your credit card credentials may have been exposed. Reportedly over 10,000 users have been affected by the error, which involved MoviePass' inability to protect their user database with a password. This has not been the first time MoviePass has been under fire for erroneous practices, such as fluctuating price points for "peak times" and blacking out certain films. MoviePass has stated that they will contact any users that were affected. (CNET Security)
We reported on Apple gathering recordings from Siri conversations earlier this month, but now Apple has an update to the situation. This week, Apple apologized about how Siri was gathering and reviewing conversations containing sensitive information, such as medical records, and are taking action. They have terminated hundreds of contractors that were hired to review the recordings and now only designated Apple employees have access to the recordings. Apple also promises to delete any recordings that happen as a result of an accidental Siri activation. (Engadget)
Two Android apps from the company Idea Master, have been caught sneakily clicking ads in the background while users were accessing the app. The two apps, "Idea Note: OCR Text Scanner" and "Beauty Fitness: Daily Workout", were downloaded more than 1.5 million times and were easily accessible on the Play Store but have since been banned by Google and removed from the marketplace. The ad clicking happened multiple times a day, draining the user's battery even during times of inactivity. (Symantec)
Trend Micro released new alarming year-over-year cybersecurity statistics that need to be shared, particularly around ransomware. So here we go: (InfoSec Magazine)

There was a 265% increase in fileless malware techniques
Digital extortion attempts have increased 319%
BEC Scams (Business Email Compromise Scams) increased by 52%
Ransomware attacks with related files, emails and URLs have increased by 77%
New ransomware families have increased by 55%
Exploit Kits have increased by 136%
neoRhino's Remote Managed Services and Advanced Security Packages are here so you can focus on your business needs. You can relax knowing that we are here to protect you. Call us at (281) 779-4850 for a FREE consultation and we can help your business today.