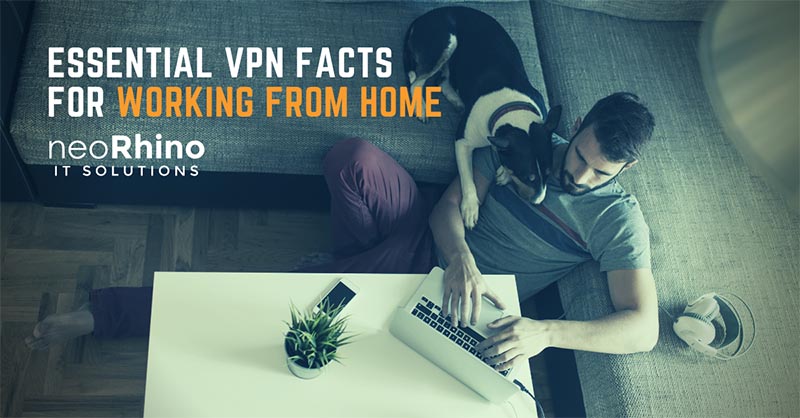 Technology is full of acronyms. While coping with the COVID-19 situation, you don't have the time to get wrapped up in all the usual jargon. However, there is one crucial tech acronym you need to have in your vocabulary as we adapt to a Work from Home lifestyle VPN.
You may have heard of VPNs in conversations about cybersecurity but why is implementing a VPN so important? Today we are going to cover Essential VPN Facts While Working from Home.
What is a VPN?
VPN stands for Virtual Private Network and adds security to your connected network, both publicly and privately, in order to protect sensitive data. VPNs encrypt your network activity and data you transfer while connected.
Businesses utilize VPNs for adding extra levels of security to workstations that access private company resources normally not available for public access.
Why do you need a VPN?
Protecting your data and securely accessing your business' internal resources now goes beyond having an antivirus program and firewall. Having a VPN is just as important.
Anti-virus programs and firewalls mainly protect your endpoints. VPNs provide access to and protect your network data while you access it over the internet. VPNs need to be implemented now more than ever as we adopt a "Stay Home, Work Safe" lifestyle during this current health crisis.
When you are working remotely, having the extra protection and access that a VPN provides is paramount. If your organization does not currently have a VPN implemented, then you should contact your IT provider as soon as possible. There are several options and neoRhino can help provide what the best option would be for VPN implementation.
Other factors to consider when implementing a VPN:
Ensure all endpoints that access your internal network are equipped with a VPN. This includes work-issued mobile devices such as smartphones and tablets.
Have a VPN security policy in place. Keeping logs of your network activity helps protect your resources and to evaluate the endpoints that are connecting. Also, have a protocol to execute if a potential data breach occurs.
VPNs are not guaranteed or perfect by any means. Continue to follow cybersecurity practices such as avoiding public Wi-Fi when possible, watch out for phishing attacks, and fully verify who you are sharing files with.
neoRhino can help you prepare for remote work and transitioning into a new type of lifestyle during times of crisis. Fill out the form above, contact us, or call us at 281.779.4850 and we can help make your transition to a remote work lifestyle as seamless as possible.