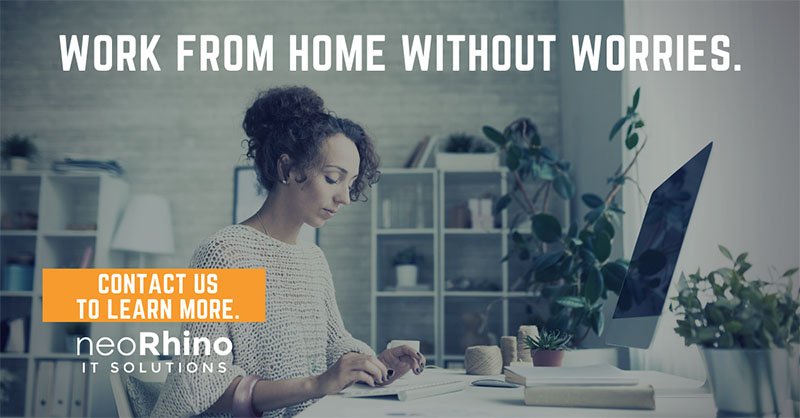 As many major cities are embracing "Stay Home, Work Safe" measures, the current COVID-19 health crisis only seems to be intensifying. We have previously covered how you can practice good tech hygiene and what tools you need when adapting to working from home, but what about how to *mentally* adapt to remote work?
Having to rapidly gather your essentials and potentially change your entire daily routine can be a bit of a culture shock when you are used to a standard 9 to 5 office life. Fear not, as we here at neoRhino understand that an office to working from home transition can be bumpy, so we are providing you with 15 Tips to Overcome the Culture Shock of Working From Home.
Rise & shine. – Unless your office requires a set work schedule, it may be tempting to hit the snooze button a few more times than normal or to binge watch your favorite show on Netflix before bed. We have found that this works quite the opposite. Do not change your sleep schedule and perhaps wake up earlier than you usually do. This keeps you from potentially falling into a trap of sleeping in and being blasé about your working. Think about your day as if you are still going to the office as it will prep you for the tasks ahead. Not to mention your transition back to normal office working will be much smoother.
Bring the office home. – If possible, mimic your home office environment to be as close to your normal office. Be it your décor, monitors, or even your coffee breaks, working from home is more mental than you might think. If it feels too much like home, you may not be as productive and be tempted to get distracted by other things. If you work in a cubicle normally, adapting your home office in a corner of your room away from other distractions could be a big help. Some have even turned their bathroom into a home office, but your results may vary on that idea.
Appreciate your new commute. – Your stroll down the highway to your home office is your new commute. Working from home may bring a sigh of relief to those that make long drives to the office daily, but treat the extra time that you get back from being in a car or on a bus to do other things. They don't have to be work-related. Working out, eating breakfast, taking your pet on a walk, or even meditating can help give you even more energy for your day. Though you can also use this opportunity to dive into your to-do list and plan your day.
Work it like you know it. – Yes, you're working from home, but you wouldn't show up for work in pajamas? Dress for success and arrive to your home office as if nothing has changed. Wearing sweatpants and letting your beard grow out can be tempting, but dressing up gives you the mental ideal that you are ready for work and not to lay on the couch, especially if you are using video conferencing tools like Microsoft Teams.
Embrace what makes you work best. – Since you're at home now, you may have a bit more flexibility in how you conduct your day. How do you prefer to work? Think about your desk placement, what your most productive hours in the day are, when your meeting schedule plans out, and even your level of noise. If you prefer to listen to music or podcasts while you work, keep doing that if possible.
Make a playlist of your workday. – Itemize your daily duties but be sure to stay flexible in this period of uncertainty. Make a checklist of your day. Solidify what duties need to be done and what their priorities will be. You could make it fun by pairing what music you're going to listen to during each work session.
Find household ways for self-accountability. – You may be tempted to tackle some of your household responsibilities since you are going to be home longer than usual. Why not make a challenge out of it? Time your work tasks with other daily home tasks, such as doing your laundry or cooking time intervals. However, don't get too wrapped up in it.
Distancing yourself from distractions may be your greatest challenge. – When you're working from home, you may be more likely to succumb to distractions, so it is important to remove yourself from them as much as possible. Do you have other family members, roommates, or even pets around? Let your family members know when your "work hours" are so they will leave you be. Keep your office closed away if your pet is being a nuisance. While you work, keep your personal phones and other mobile devices on silent or even in other rooms, if possible. Although we do understand that some pets can be helpful when isolated in a room, do whatever works the best for you.
Flex the Incognito Mode if you have to. – Speaking of distractions, it's advised to keep the same level of distance you have with your personal logins at your home office as you would in your cubicle. Keep your personal logins out of your work time, including social media, gaming, etc. If you see yourself getting distracted, use Incognito/Private mode from your web browser instead to force not being signed into those sites and being distracted by the daily deets.
Have a work playlist at the ready (or even white noise). – Going back to what works best for you, do you listen to music as you normally work? Playlists are for more than just jamming in your car or exercising! Match what kind of music works with the tasks at hand. Do you work better with white noise in the background? Maybe even have a TV with reruns of a show you've seen over and over at low volume to help keep you productive.
Stick by your logon & logoff times and take designated breaks. – You definitely should go above and beyond while you're working from home but stick to your methods of when you start and end your day. Take breaks to step away from your workspace and interact with other people. Take 5-minute breaks when you can, maybe even a designated one at the hour if you can. Use the time to have a quick chat with another person, call your parents, give your pet some attention, etc.
Consider taking up cooking. – You may be confined to your home for a lengthy period, so why not help your budget and time spent ordering out by cooking? Not only is it a skill that could benefit you in the long run, but having food prepared for the next day or even the week can be a tremendous financial and time saver. Plus, you'll save the trouble of going for take-out or having the monotony of eating a bologna & cheese sandwich every day.
Chat with your co-workers about non-work-related things too. – We're all human and when you are working from home, it's highly advised to take breaks to avoid potential burnout or to catch a case of "cabin fever." Take a quick mental break from work like you would at the office. Take a short walk. Get some fresh air for a bit. Have a chat with your co-workers over Teams or your messenger service at least daily. However, don't get too wrapped up in conversation and keep tabs on when it's time to go back to work.
Show off your organizational skills. – You might feel a lot more comfortable now that you are working from home but keep a clean workspace like you (hopefully) do at your work office. This especially applies when you are doing video conferencing as many times your co-workers can see your surroundings through your webcam. Teams has a feature where you can blur your background to help but you should still do your best to tidy up.
Prep for what people see (and hear) in your video chat. – The amount of video chat use is already going through the roof so there are a few pointers you should consider when using your webcam while you're working from home. Make sure your webcam placement is aligned with your eye level as no one wants to look up your nose. Watch your lighting for shadows so you don't look like a shady silhouette. Make sure you have a privacy cover for when you're not using your webcam. And finally, know when to mute your microphone when necessary.
neoRhino can help you "be a prepper" for remote work and transitioning into a new type of lifestyle during times of crisis. Fill out the form above, contact us, or call us at 281.779.4850 and we can help make your transition to a remote work lifestyle as seamless as possible.