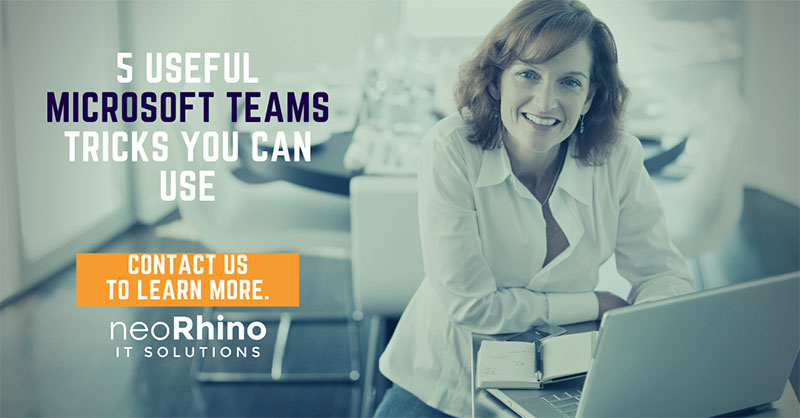 As we all manage our new normal of working from home, collaboration tools have become the cornerstone of how we communicate, develop, and execute our workday. Microsoft announced via VentureBeat that their collaborative Microsoft 365 program, Microsoft Teams, has achieved a 110% increase in active users since the COVID-19 pandemic, bringing their current daily user total to over 44 million.
For all of us at neoRhino, Teams is an essential part of our workflow. It is one of the most streamlined and secure collaboration tools you can adopt while in the office or working from home. We'd like to share with you 5 Useful Microsoft Teams Tricks That You Can Use.
Staying at the top of the chat.

Teams only allows four (4) users to be displayed in a multi-user chat/meeting. By default, it will choose the users you see on screen based on who is talking. However, if there is a person in your chat that you wish to keep on screen (such as a Team Lead or Manager, etc.), you can reserve one of the video spaces during the call for them by spinning the user in the video chat.
Right-click on the user that you wish to reserve a space for and choose "Pin." You can pin as many users as you can fit on your screen. Repeat the process but choose "unpin" to remove them.

One-touch group conference calling.

It may be cumbersome to gather everyone together while you are already in a chat or video conference. Rather than trying to hunt for each individual user to add while you are in a call, why not make a specific chat to easily call at any time?
Create a Group chat with any desired users by Right-clicking on Chat in your left menu bar and choosing "New Chat." Then, choose your desired members or group to invite to the chat. Once everyone has accepted the invite, click the video or phone button at the top-right corner of the chat window to immediately begin a call. As long as you do not disband the chat, you can easily send a call to these specific people. You can also name the chat to make things easier for you.

Taking notes.

Rather than writing traditional notes, Teams has a "pocket" you can use during conference meetings to take notes and share them with participants. These notes are archived in a Wiki for everyone to refer to after the meeting session is closed.
Once you're in the meeting, click the ellipses (…) button then choose Show Meeting Notes. If you have not taken any notes yet, select Start Taking Meeting Notes to begin.
Before a meeting, you can use the Meeting Notes to build an agenda and assign tasks. You can also use @mentions to tag meeting members to specific notes. In a recurring meeting, your notes will update from meeting to meeting with each new session becoming its own section in your notes.
NOTE: Meeting Notes only works for Teams online meetings of under 20 people and will only be available to those within the meeting, not added after.

Getting a closer look and an audible advantage.

These are two easy features to help with Accessibility for both visual and audio assistance in Teams. If you need to get a close-up view or have your messages read to you, Teams has Easy Zoom and Immersive Reader to assist.
Easy Zoom is simple to use. Just press Control and ( - ) key to zoom out and the Ctrl and (+) key to zoom in. Now you can increase the text size to make it easier to read or smaller to get a larger view.
If you'd like your chat messages to be read aloud, there is the Immersive Reader feature. Hover your mouse near the top right of the message you wish to be transcribed, click the ellipses (…) and choose Immersive Reader. The message will open in another window and press play to begin the audio transcription.

Muting conversations when you need to.

Sometimes things can get buried amidst multiple chat windows and conference calls, especially during conversations that you may not need to be a part of consistently. If you do not want to leave, you can choose to mute the conversation instead so you can keep your concentration.
Mute a conversation by right-clicking the chat or clicking the ellipses (…) and choosing "Mute" to stop receiving notifications but remain in the chat.
neoRhino can help you determine the best ways to maximize your productivity while staying secure during times of crisis. Fill out the form above, contact us, or call us at 281.779.4850 and we can help make your transition to a remote work lifestyle as seamless and productive as possible.