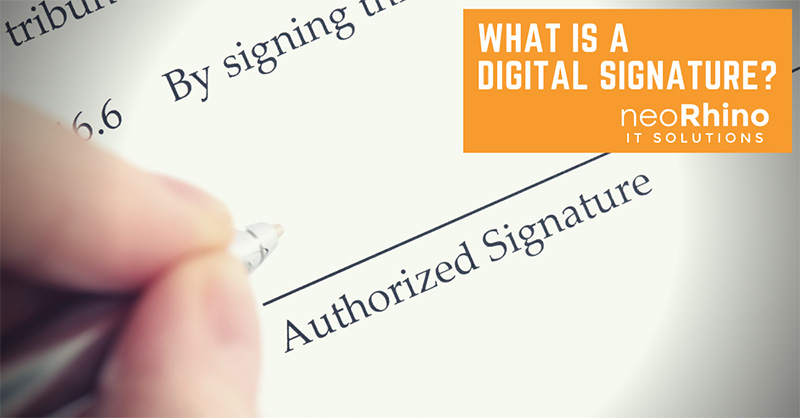 Digital and electronic documentation has become the norm as we continue to work remotely to help flatten the curve for COVID-19. As we adapt to working remotely, we are all implementing new workflows and changing how business traditionally operates.
One of the most important aspects is being able to sign important documents easily and have them digitally transported securely. Digital signatures are more than a scanned image of your John Hancock. Today, we'll define what a proper digital signature is, discuss some benefits, and cover various services that you can use to create and send your own documents to be signed online.
What is a digital signature?
A digital signature is an electronic fingerprint. When the receiver of a document signs digitally, it validates the signer through various legal regulations, ensuring that the original document remains unaltered when being returned. Think of is as a secret passcode between you and the receiver.
Digital signatures are not to be confused with electronic signatures, which is a more general term of filling an online form for completion. Digital signatures are much more secure since they use certificate-based digital IDs to authenticate the document and include an audit trail during the entire signing process.
What are some advantages of using digital signatures?
Saves you time. No need to wait for someone to be available physically and eliminates the use of mailing or courier services.
Sign from Home. Keep your distance and have your documents signed and verified without leaving your home.
Cost Savings. Going digital means having little to no expense in ink, paper, shipping, or delivery.
Workflow efficiency. You'll typically experience less delays in business progress by utilizing email notification and document tracking.
Great security. In addition to encryption, signers can provide PINs or password to authenticate and verify their identity.
Legal Validity. Through time stamping and tracking, digital signatures provide authenticity and can stand in a court of law.
Environment-conscious. Using digital documents reduces waste and saves trees.
What kind of services are best for digital signing? *
Here is a sample of online services that you can use to sign documents, gather signatures, and create your own forms to send off. Most options include document creation, editing, and converting. Some services also allow for document tracking and multiple signers. Due to the COVID-19 pandemic, many services have extended free trials or special offers for using their service.
PDF.co ($24.99/mth): This browser-based document builder includes custom template creation, and multiple conversion tools available upon subscription. Upload your document, fill and sign, then download the finished file.
Adobe Acrobat DC & Adobe Sign ($29/mth): One of the original document creators/editors, Acrobat DC & Sign allows you to sign via their desktop app, browser, or mobile app. Adobe offers 90-day extended trials for new Adobe Sign users.
DocuSign (starting at $25/mth): Another widely used digital signature service that you can sign anywhere via desktop, tablet, or smartphone. DocuSign is robust with multiple features, including document creation and tracking from beginning to end.
SignNow (starting at $8/mth): Another popular cloud-based signature service that also provides options to edit documents before sending them. It also offers seamless transition of digital documents from desktop to mobile app. SignNow also includes app integration with Microsoft Teams for easy access to your documents.
EverSign (Free for up to 5 documents, then starting at $9/mth per user): EverSign does things a bit differently in that it is completely browser-based and that it includes a free version for up to 5 sent documents per month. It also includes integration with other popular apps such as Evernote, Dropbox, and OneDrive.
There are various other online digital documenting services available such as HelloSign, PandaDoc, and SmallPDF, but it is a best practice to evaluate all of the features and to consult your IT department before signing up for one of these services.
neoRhino can help you determine the best ways to maximize your productivity while staying secure during times of crisis. Fill out the form above, contact us, or call us at 281.779.4850 and we can help make your transition to a remote work lifestyle as seamless as possible.
*neoRhino does not endorse any of these services and are mentioned for informational purposes only.