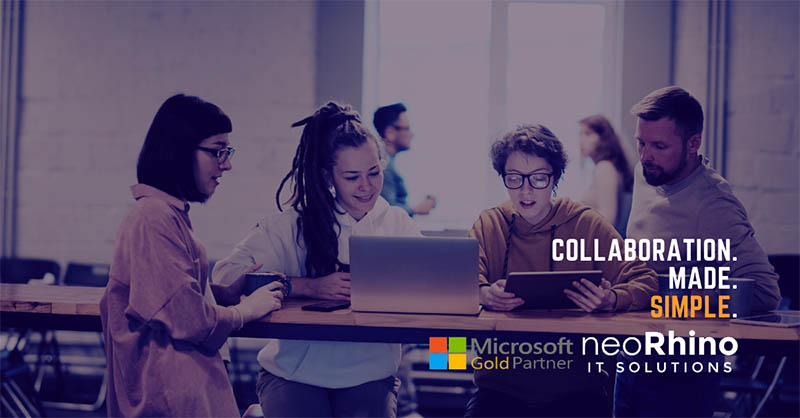 Welcome to neoRhino's Microsoft 365 – Easy as 1-2-3 series, where we will be covering what you need to know and how to maximize your experience when adopting Microsoft's flagship productivity suite.
Let's begin by defining what is Microsoft 365 is.
What is Microsoft 365?
Microsoft 365 (M365) is a cloud-based productivity suite that has the essential tools that every technology-powered business needs to operate at its full potential. Gone are the days of having to purchase costly one-time software that can be rendered obsolete in a few years.
M365 is consistently updated and constantly secured thanks to Microsoft's online servers. If your workstations are online and are subscribed to the proper M365 package, you will have the latest versions of the app suite.
The Evolution of Microsoft 365 is composed of three goals for your business:
Productivity. Microsoft 365's gold-standard productivity apps and services includes the familiar programs for your business such as Word, Excel, and PowerPoint, while including new templates, artificial intelligence (AI), cloud file storage, and online collaborative capabilities via Microsoft Teams to help strengthen your business and create stronger connections to the people in your life. We will be breaking down the additional benefits in our in a future article.
Advanced Security Protection. M365 continues to include these benefits for securing your activities while using its applications. *

Office 365 Advanced Threat Protection
Data Loss Prevention
Multi-Factor Authentication
Windows Defender and Bitlocker
Azure Information Protection

Device Management. Included in M365 is Microsoft Intune, a cloud-based services that controls who has access and what they have access too, keeping your data safe while simple to access for your employees to stay productive. With Intune, business owners and admins can:

Take inventory of devices with access to your resources
View reports on device usage and compliance
Configure devices to meet your security standards
Remotely wipe private data should a device in your organization be compromised or turned over to a new user
All Business and Enterprise Microsoft 365 licenses include these core applications:
Microsoft Outlook
Microsoft Word
Microsoft Excel
Microsoft PowerPoint
Microsoft OneDrive (Storage Capacity varies)
While specific packages of Microsoft 365 include these additional apps:
Microsoft Teams
Microsoft Access (PC Only)
Microsoft SharePoint
Microsoft Yammer
Microsoft Sway
Microsoft Planner
Microsoft PowerApps
Microsoft PowerBi & Power Automate
With the exception of Microsoft Access, all the Microsoft 365 apps are available by desktop app, mobile app, and web browser.
What Microsoft 365 plans suits your business? 
We will be breaking down each plan as well as what apps and perks are included in each M365 license in a future article, however, unless your business lies in an Education field, M365 has two suite tiers to fit small businesses: Business and Enterprise. These tiers include:
Business Plans:
Microsoft 365 Business Basic
Microsoft 365 Business Standard
Microsoft 365 Business Premium
Microsoft 365 Apps for Business
Enterprise Plans:
Microsoft 365 E3
Microsoft 365 E5
Microsoft 365 F3
Microsoft 365 Apps for Enterprise
Additional licensing options are available for consumer use or educational purposes. However, they would not provide the support and security small businesses need.
What about Office 365?
In April 2020, Microsoft renamed a handful of Office 365 Suite tiers to reflect the features and benefits in the subscription and to help users find the proper plan for their business easily. These changes were in name only; there are no price of feature changes at this time and will be updated automatically for current subscribers. These plans include:
Office 365 Business Essentials is now Microsoft 365 Business Basic
Office 365 Business Premium is now Microsoft 365 Business Standard
Microsoft 365 Business is now Microsoft 365 Business Premium
Office 365 Business and Office 365 ProPlus are now Microsoft 365 Apps for Business and Microsoft 365 Apps for Enterprise
These plans will remain under the Office 365 banner:
Office 365 for Enterprise

Office 365 E1
Office 365 E3
Office 365 E5

Office 365 for Education

Office 365 A1
Office 365 A3
Office 365 A5

Office 365 for Firstline Workers
No action is needed if you fall under any of these subscription tiers and no plans are being discontinued at this time.
How much does it cost?
Microsoft 365's costs vary depending on your package choice and how many licenses you need. We will be breaking down the costs and contents of every business and enterprise package in a future installment, but pricing ranges from $5/month per license to $57/month. There are also specialty priced packages for Non-Profit Organizations (NPOs) and educational organizations as well, so be on the lookout for that in the future.
neoRhino's Microsoft Gold-certified technicians are here to help guide you to which M365 package is best for your business, both in cost and in capabilities. We are here to help you adopt and adapt to its new world of applications.
neoRhino is equipped to maximize your experience with Microsoft's 365 family of apps so you can keep your productivity at an optimal level. If you have questions or would like to speak with one of our associates about our services, contact us or give us a call at (281) 779-4850.
* Various portions of Microsoft 365 Advanced Security Protection are only included in specific M365 subscription tiers. Contact us or visit here for further details.