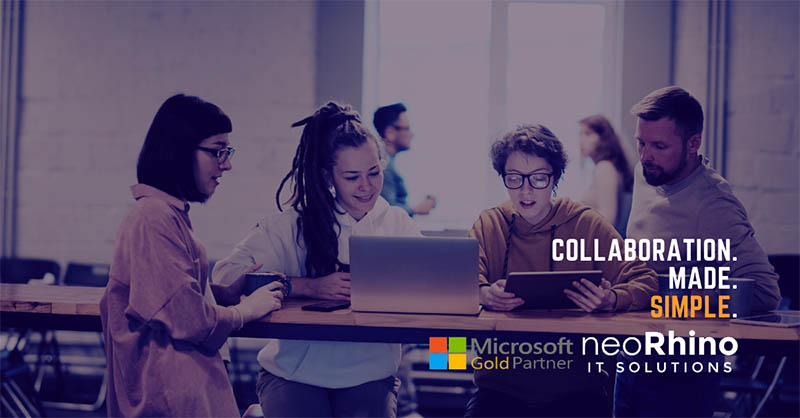 You may be familiar with the best-in-class productivity of Microsoft 365 and its applications, advanced security, and device management capabilities. Did you know that as a Non-Profit Organization (NPO), you may be eligible for Microsoft 365 licensing for free or at a discounted rate?
It's true. neoRhino IT Solutions is devoted to making the benefits of Microsoft 365 accessible and affordable for all our clients. However, while greatly beneficial to your mission's success, the eligibility terms and pricing are different for NPOs and can be quite a bit to digest.
Let's define what Microsoft 365 is and what it takes for NPOs to be eligible for special pricing.
What is Microsoft 365?
Microsoft 365 (M365) is a cloud-based productivity suite that has the essential tools that every technology-powered business needs to operate at its full potential. Gone are the days of having to purchase costly one-time software that can be rendered obsolete in a few years.
M365 is consistently updated and constantly secured thanks to Microsoft's online servers. If your workstations are online and are subscribed to the proper M365 package, you will have the latest versions of the app suite.
The Evolution of Microsoft 365 is composed of three goals for your business:
M365's gold-standard productivity apps and services includes the familiar programs for your business such as Word, Excel, and PowerPoint, while including new templates, artificial intelligence (AI), cloud file storage, and online collaborative capabilities via Microsoft Teams to help strengthen your business and create stronger connections to the people in your life.
Advanced Security Protection. M365 continues to include these benefits for securing your activities while using its applications. *

Office 365 Advanced Threat Protection
Data Loss Prevention
Multi-Factor Authentication
Windows Defender and Bitlocker
Azure Information Protection

Device Management. Included in M365 is Microsoft Intune, a cloud-based services that controls who has access and what they have access too, keeping your data safe while simple to access for your employees to stay productive. With Intune, business owners and admins can:

Take inventory of devices with access to your resources
View reports on device usage and compliance
Configure devices to meet your security standards
Remotely wipe private data should a device in your organization be compromised or turned over to a new user.
All Business and Enterprise Microsoft 365 licenses include these core applications:
Microsoft Outlook
Microsoft Word
Microsoft Excel
Microsoft PowerPoint
Microsoft OneDrive (Storage Capacity varies)
Various packages of Microsoft 365 also include these additional apps:
Microsoft Teams
Microsoft Access (PC Only)
Microsoft SharePoint
Microsoft Yammer
Microsoft Sway
Microsoft Planner
Microsoft PowerApps
Microsoft PowerBi & Power Automate
With the exception of Microsoft Access, all Microsoft 365 apps are available by desktop app, mobile app, and web browser.
How Can My Organization Benefit from Using Microsoft 365?
Achieve more by seamlessly connecting your employees, partners, and volunteers through all of Microsoft 365's apps.
Work on projects anywhere and on any device. Even if you are not connected to the internet, your progress in Microsoft 365's apps or through your web browser will be saved locally and automatically
Protect your company data across devices with always-on security. As mentioned, Microsoft Advanced Security Protection is there to cover your data from malicious threats.
Simplify the setup and management of employee devices and services with a single console, preferable moderated by the company owner or IT admin.
How can you get discounted Microsoft 365 for your NPO?
Microsoft 365's discounted pricing has eligibility guidelines for Non-Profit Organizations, so before applying, you must meet the following criteria to be eligible:
Your NPO must hold recognized, legal charitable status as defined in their countries;
Have a mission to benefit the broader community;
Attest to Microsoft's anti-discrimination policy;
Only assign licenses to eligible staff;
Only use the licenses for their organization and not for partners, affiliates, or sister organizations.
After affirming that you are eligible for nonprofit licensing, you may need to create a new Microsoft account for your organization. You can sign in with an existing Microsoft 365 account, but you must be the Global Administrator to associate your account to non-profit status. You will need to provide proof of your organization's eligibility, such as a tax identification number or registered documentation from government entities.
Once these requirements are verified, Microsoft will process your application to receive non-profit eligibility validation. You can also visit Microsoft's nonprofit eligibility page for more details.
After your eligibility is confirmed, neoRhino's Microsoft Gold-certified technicians can guide you to which M365 package is best for your business, both in cost and in capabilities. We are here to help you adopt and adapt to its new world of applications.
neoRhino is equipped to maximize your experience with Microsoft's 365 family of apps so you can keep your productivity at an optimal level. If you have questions or would like to speak with one of our associates about our services, contact us or give us a call at (281) 779-4850.
Your mission, supported.
 * Various portions of M365 Advanced Security Protection are only included in specific M365 subscription tiers. Contact us or visit here for further details.