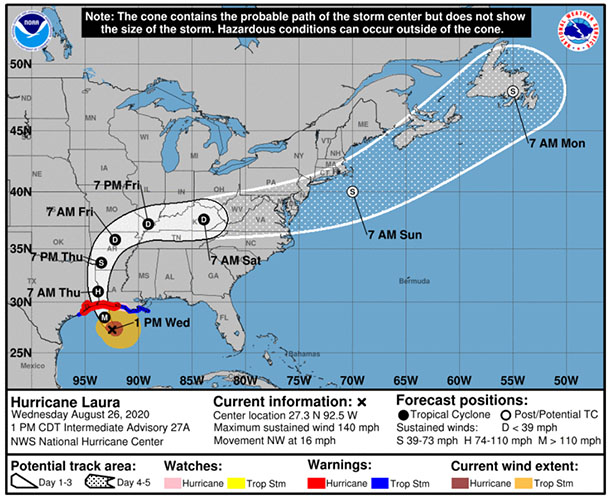 With Hurricane Laura working its way toward the Texas and Louisiana borders, neoRhino wants you to know that the well-being and safety of our clients, partners, and team members are our number one priority.
Good business continuity plans and backups are vital during hurricane season. neoRhino is here to help ensure that your business stays operational and will bounce back if disaster strikes.
Here are a few actions we recommend you take prior to Laura's arrival:
Unplug any unnecessary devices. For devices that need to remain powered on, use a proper surge protector or if you can, a battery backup, to decrease the chances of your devices being damaged.
If possible, have plenty of batteries for portable devices like flashlights, and USB powerbank chargers filled up and ready for devices like cellphones and flashlights.
Watch your ISP (Internet Service Provider) and cellular providers for outages and updates. Many ISPs have apps or websites that can alert of outages and potential downtimes. However, times are estimates and power may resume before ISP services are restored so keep that in mind.
If possible, have plenty of non-perishable items ready, cash in hand and a full tank of gas should you need to evacuate.
Be sure to prepare of any possible wind damages that could occur. Secure loose items and try to clear your floor as much as possible.
You can find more information on how to prepare before a storm or hurricane at the National Weather Service website, and we also recommend reading our 10 Steps to Prepare for a Hurricane blog as well to stay prepared.
If you need any help keeping your data safe, do not hesitate to give us a call at (281) 779-4850 or (877) 85-RHINO.
Stay safe, turn around – don't drown, and we are here for you if you need us.
*  Current weather developments may create an influx of requests for IT assistance. neoRhino is excited to come to your aid and will resolve requests in the order they are received.
Photo courtesy of Space City Weather.