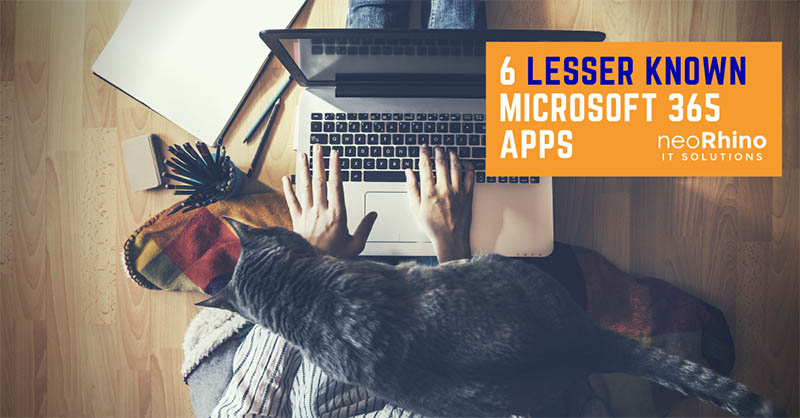 Throughout the year our team at neoRhino has broken down the myriad of useful applications within the Microsoft 365 portfolio of productivity software. Whether it's how to maximize your use of Microsoft Teams to how to proper secure your files on OneDrive.
And we all know about the staples of Microsoft 365: applications like Word, PowerPoint, Excel, and Outlook. But what about the lesser-known applications that are included in the family of Microsoft Apps?
Now that 2020 is coming to a close, as part of our Microsoft 365: Easy as 1-2-3 series of blogs, we would like to briefly highlight a few apps included within the Microsoft 365 suite that you may not be aware of how they could help your business.
Microsoft Yammer
Yammer is an Enterprise Social Networking (ESN) app that you may have heard about prior to it becoming a part of Microsoft 365.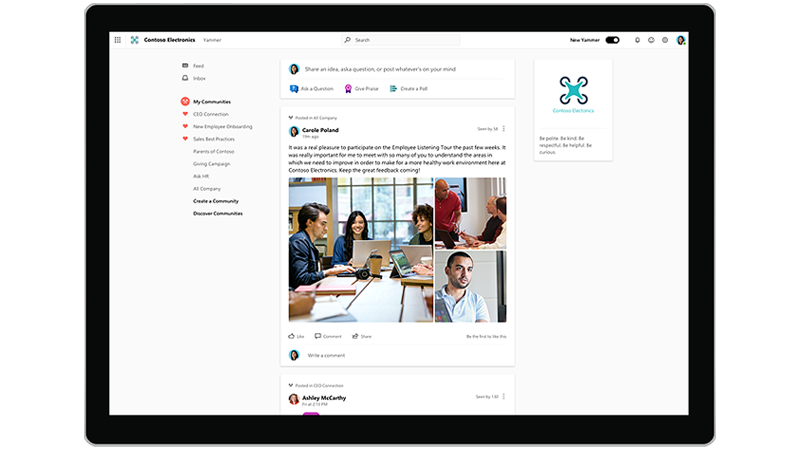 Originally meant as a business-centric alternative to social networking sites like Facebook, Yammer was brought in to the Microsoft 365 family of apps as a way to help businesses share their news, promote company culture, and have employee message forums within their organization securely. Users can create polls, share documents, give praise to others for jobs well done as well.
So why use Yammer when we have Microsoft Teams?
According to Microsoft themselves, Yammer's intention is "to create an open space for engagement and knowledge sharing, all in a single, unified experience that can be deployed as a template in Teams."
The short answer: Yammer is meant for building a community for your organization. Teams typically involves closed conversations, while Yammer involves open conversations across your workforce. The other key benefit is in how Yammer's functionality is akin to social network sites like Facebook, where it is easy to ask your community questions, create polls, pin announcements, all in a simple interface.
While it might not be as popular as Teams, there are valid reasons that Yammer could benefit your business culture, and can easily be implemented within the Teams app, accessed through your web browser, or through Yammer's own dedicated mobile app.
Microsoft Sway
PowerPoint is a household name and a Microsoft Sway is an alternative to the flagship presentation software that crafted to be as simple to use as possible yet still quite powerful.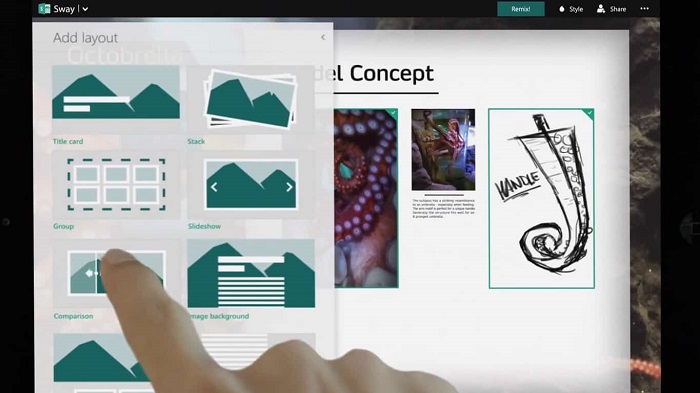 Instead of working with predetermined templates or fumbling with compatibility issues, Sway brings in a seamless, web-based platform for users to work with. By utilize its Storyline canvas, you can arrange Cards similar to PowerPoint's Slides to easily create your story. You can type, insert media, edit existing Sway cards, and adding cards, with each card in sequential order with the content you want but can be rearranged at any time to suit your needs. You can even use the Remix button to find a design and layout that you like the most.
Sway is available for all users that have a Microsoft Account via the web portal, however Microsoft 365 users have additional benefits such as SharePoint integration, more customization options, and advanced privacy protection for external sharing.
Why use Sway when we have PowerPoint?
As previously mentioned, Sway is not meant to replace PowerPoint. There are still going to be times when you will need the more complex presentation platform that PowerPoint provides, particularly if it is going to be a live presentation. Sway is a simplified presentation platform that you can use even if there is no live presenter. Sway only utilizes a handful of templates and even can be viewed in a scrolling webpage fashion if you prefer that style.
Sway is great for quicker, simplified presentations for when you need something done in a faster fashion yet retain the professionalism and pizzazz that a PowerPoint presentation can provide.
Microsoft Sway can be accessed right now at sway.office.com so you can see if it could be a good alternative to PowerPoint for you.
Microsoft Planner & Microsoft Bookings
Planner is meant to be a more simplified project management solution and could be a big benefit to your team, particularly if you have heavy users of Microsoft Teams.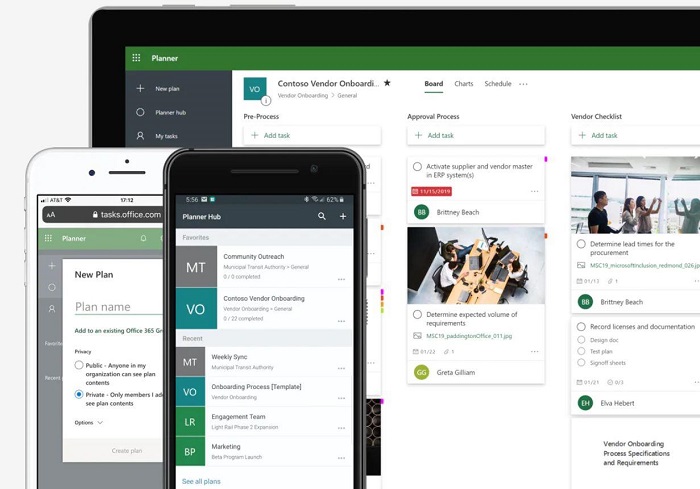 Organizing your plans and teamwork efforts is crucial, especially when working remotely. Microsoft introduced Planner to be a central hub for your team members to plan out projects, organize, and assign tasks to different users through one central dashboard.
One of Planner's biggest strengths is in how seamless the app integrates with your current processes in Microsoft 365. Instead of using a 3rd-party application like Slack would work but will not have the instantaneous synching that Planner utilizes with your other M365 apps. Utilizing Planner helps to decrease time spent switching from app to app or from any incompatibilities that may occur, increasing your productivity.
You can share files with your whole team or individual users through SharePoint or OneDrive. Using Teams to discuss a project with your teammates? No problem; Planner is accessible in one click without leaving the conversation. The seamless Teams integration makes it simple to adjust plans or make additions in one place.
So that's Planner, but what is Bookings?
Planner is made to help with project management, while Microsoft Bookings is here to make scheduling virtual appointments fast and as simple as possible. If you need to manage the calendars of multiple staff members or wish for a unified way of having meetings internally and externally, Bookings suits your needs.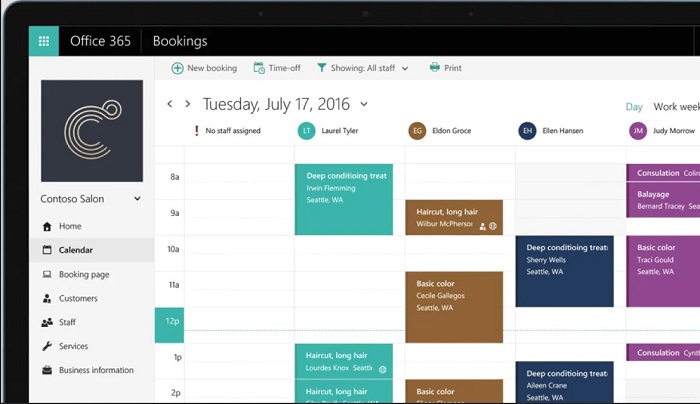 Bookings appointments are still held through Microsoft Teams Meetings, but the app makes it easier to set up appointments and keep track of your busy schedule.
A few more lesser-known Microsoft 365 apps that could help you and your employees:
Microsoft PowerApps: A tool within Microsoft 365 that allows you to create custom business apps for utilizing your business data stored either in the Microsoft Dataverse, on-premises data sources, and online data sources (SharePoint, Microsoft 365, SQL Server, etc).
Microsoft PowerBi: If you need analytics and extensive drilldown of your data usage, then PowerBi would be the solution for you as a Microsoft 365 user. PowerBi is a data visualization tool that allows you to make interactive dashboards and analytical reporting from your data to help bring insights and business results.
Microsoft Power Automate: Previously known as Microsoft Flow, Power Automate allows users and IT engineers the ability to created automated workflows to increase productivity. Examples of Automate flows include having updates sent to you from your favorite RSS feed to receiving a push notification whenever you get an email from your boss. You can also easily access and build your workflows in Microsoft Teams with a simple drop-down menu to make things even easier.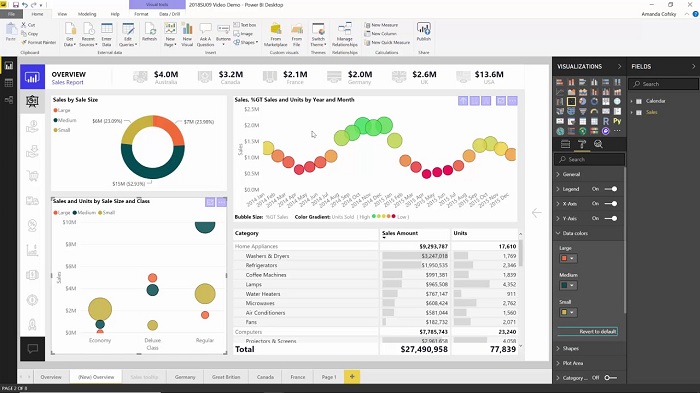 neoRhino is equipped to maximize your experience with Microsoft's 365 family of apps so you can keep your productivity at an optimal level. If you have questions or would like to speak with one of our associates about our services, contact us or give us a call at (281) 779-4850.
See you all with more Microsoft 365 tips, tricks, and breakdowns in 2021!