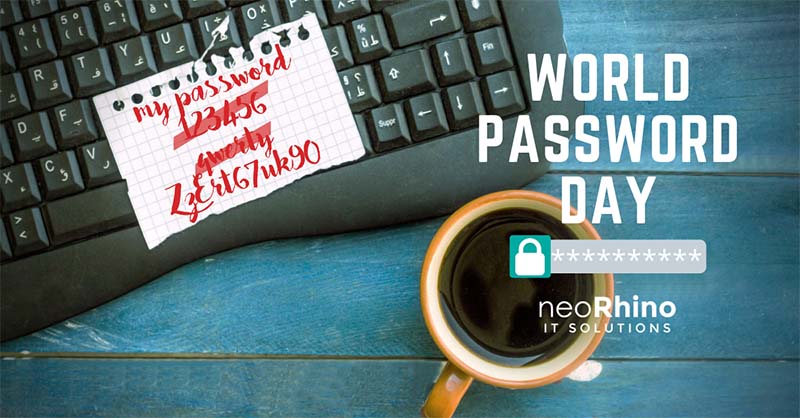 It's World Password Day! Question for you: How Strong are YOUR Passwords?
Nearly all our activities online require a login of some sort. Whether is it to check our bank accounts, pay bills, or to check our email and social media feeds, accessing these will require you to divulge your login credentials before it is granted. However, as the number of logins required increase, so do the number of passwords you will need to keep up with.
Today is World Password Day, and to protect your online accounts from being hackable, it's not just about making passwords for all your logins. It's about utilizing unique, strong passwords for EVERY login. Keeping up with multiple passwords can be frustrating, especially with login requirements becoming more complex in today's landscape.
Here are 5 things to NOT DO for creating strong passwords and how to keep your logins safe.
DO NOT use a simple character sequence. Some of the most used passwords are simple keyboard sequences such as "123456" or "qwerty." Even numerical sequences on your 10-key pad should be avoided as well, such as "7410" or "789456"
DO NOT use easy, common phrases. We mentioned using passphrases but make sure they are not simple ones such as "iloveyou" or "darthmaul."
DO NOT use actual names, places, or recognizable things. This includes pet names, high schools, birth dates, anniversaries, or even previous online handles.
DO NOT use the default passwords given upon sign-up. Some logins will provide a password for you but do not automatically require you to change it upon login. Always change these default passwords, such as a default Wi-Fi password when you get a new modem or router.
DO NOT use the same passwords for multiple logins. This is a doozy. You need unique passwords for EVERY login, as using the same passwords for multiple sites makes you vulnerable should one of those sites get breached. If one is compromised, they are all potentially compromised.
If you would like a printable copy of these steps to share with your employees and teammates, complete the form above or click here for a downloadable PDF.
DO Consider a Password Manager
Password managers keep your passwords under one encrypted roof and generate strong passwords to insert automatically when logging into different websites. Password managers only require you to recall one master password for sign-on and give you the ability to easily maintain all your login credentials.
It's understandable to have reservations about having a "master key" to your logins in the hands of a third-party company. Most password managers encrypt and store your master password locally, not on a remote server. If it is on a server, it's not readable by the company. Many password managers such as LastPass and 1Password have free versions but offer additional features for paid accounts such as secure file storage, Multi-Factor Authentication, and VPN capabilities.
And you MUST MFA All the Things
The last step is seemingly the most important one: enable Multi-Factor Authentication (MFA) on every login possible.
Now, we know what you're thinking… what a pain in the rear, right? Well, it's actually not as much of a pain as you may believe. MFA is the concept of requiring multiple forms of identification to access your login. MFA comes in multiple forms, including receiving one-time use tokens through text messaging and through specific mobile apps such as Google and Microsoft Authenticator. One philosophy we live by at neoRhino is "cyber security is never convenient." If you want to have top security, enabling MFA on your logins is a crucial early step.
We will be covering the many faces of MFA in a future article as well as delve further into the intricacies of using a VPN. However, using strong, complex is a cyber security philosophy that if your office is not currently embracing, you absolutely must. In today's always-connected world, everyone must go the extra mile to protect themselves as well as their business from cyber-criminals.
Embracing strong password practices is just one slice of the vast pie that is cyber security culture. neoRhino IT Solutions prides on being a leader in technology solutions for business across the Houston area and beyond though Houston-based world-class remote/on-site IT support and of course, cyber security training.
For a FREE consultation, contact us at info@neorhino.com or call us at (281) 779-4850. neoRhino embraces total data protection by helping to arm both your technology and your mind with the tools you need to keep your business safe.