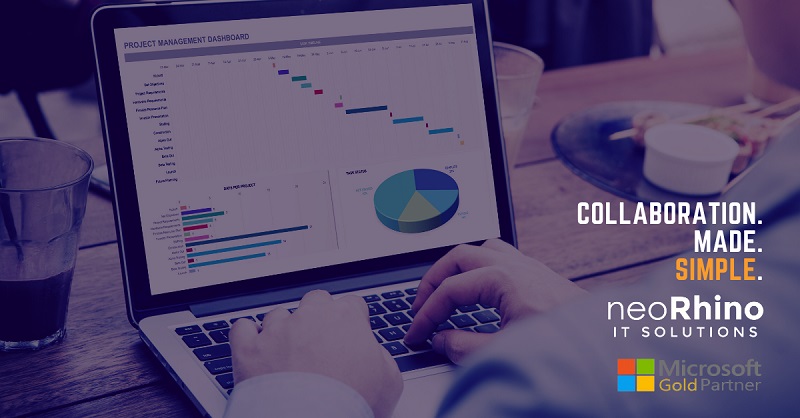 If it seems like Microsoft 365 is always evolving, it's because it certainly is. For nearly a decade, Microsoft has been on the cutting edge of office productivity and the amount of useful applications available to its subscribers is staggering.
Welcome to Part 2 of neoRhino's Microsoft 365 – Easy as 1-2-3 series, where we show you how to maximize your experience when adopting Microsoft's flagship productivity suite.
In Part 1 of this series, we covered the basics of Microsoft 365 and which plan may suit the needs of your businesses. Today, we will briefly define each of Microsoft 365's various applications and the benefits they provide for your business.
Let's begin with Microsoft 365's "Core" applications. These are programs that you may be most familiar with and are included in all Microsoft 365 plans.
Microsoft Outlook: a personal information manager from that functions primarily an email application, but also includes a calendar, task manager, contact manager, note-taking, journal, and web browsing. You also have the ability to share attachments from your OneDrive, book conference rooms, set up meetings through Microsoft Teams, and more. Outlook utilizes enterprise-grade security around the clock to keep your data protected while using little computer resources.
Microsoft Word: the standard-bearing word processing program that users can create text documents but through its evolution has become so much more. While its main purpose is to allow users to type and save documents, you can also create web pages from Word documents, collaborate on documents in real-time, translate languages within the app, or even insert 3D models into your work.
Microsoft Excel: a spreadsheet program that allows you to create tables of values arranged in rows and columns. Excel offers simple, yet powerful manipulation of tables using both basic and complex arithmetic operations and functions. Excel also uses Artificial Intelligence (AI) to help you create tables faster and more efficiently.
Microsoft PowerPoint: PowerPoint is a presentation creation program that easily allows you to create visually exciting presentations for your employees or to share with your clients or students. Using additional tools such as Designer and Ideas can add style to your slides in PowerPoint, as well as the ability to easily add interactive elements, animations, embedded video and much more.
Microsoft OneDrive: OneDrive is Microsoft's file-storage and synchronization service. You can upload files for retrieval at any time and OneDrive files allow for users to control how they share their files, seamlessly integrate files to and from your device storage, and in collaborate in real time using Microsoft programs such as Word, Excel, PowerPoint, and Teams. Storage capacity may vary across M365 plans.
Microsoft OneNote: OneNote is a cloud-powered note-taking program that is not just a part of Microsoft 365's application family, but similar to OneDrive, can be integrated into your Windows 10 experience as a whole. You can take notes on your mobile device while you are out and retrieve them when you are back at the office easily. Notes can also be organized the way you want them with an intuitive folder system.
Microsoft Teams: The newest member of the Microsoft 365 Core Application family, Teams introduces real-time online collaboration, voice chat, messaging, project management, and integration of documents via Microsoft Word, Excel, PowerPoint, and many others. Users can work together on one document and Teams will save your progress instantly through SharePoint. While considered a Core Application, Microsoft Teams is only available across all M365 plans for a limited time.
Various plans of Microsoft 365 also include these additional apps:
Microsoft Access (PC Only): a database management program that allows you to use Visual Basic to create custom apps, forms, and reports to automate your business processes on the back end.
Microsoft SharePoint: a service that allows you to create sites for team collaboration and data storage/retrieval. Microsoft Teams' collaboration abilities are fueled my SharePoint sites.
Microsoft Yammer: a private social networking platform within M365 that users can share pictures, create events, and to have private chats within your organization.
Microsoft Sway: an online creation tool that brings digital media creation in a simple, streamlined interface and can also be integrated with OneNote or Word to make dynamic presentations.
Microsoft Planner: a project management tool that allows you to create end-to-end plans, organize tasks, talk with others on progress, and collaborate in real-time for projects.
Microsoft Power Apps: an application creation program suite that you can create apps, forms and workflows to streamline your processes. This includes additional apps under the Power Apps umbrellas, such as Power BI for business analytics and Power Automate to create automation of your workflow.
These are only some of the most requested apps from Microsoft's vast M365 portfolio. With the exception of Microsoft Access, all Microsoft 365 apps are available by desktop app, mobile app, and web browser.
Ensuring that you choose the perfect M365 Business or Enterprise suite also affects your level of threat protection, data loss prevention, security management, and compliance level.
Microsoft has different plans for Non-Profit Organizations (NPOs) and educational organizations, each containing their own special pricing and feature lists. Contact neoRhino for more information and to see how you can qualify for these M365 plans.
How does 365's monthly service work? Do my applications automatically update?
Unlike previous on-premise Microsoft Office versions, Microsoft 365 is consistently updated and constantly secured by Microsoft's online servers. These servers check the M365 programs on your workstations once a month to verify your account status and implement software updates to your apps in real-time to ensure you have the latest version. Security threats tend to hide within outdated versions of software, so these updates are crucial to your security.
This also eliminates the possibility of these programs becoming End-Of-Life (EOL) as all M365 are updated to their latest versions once the update is pushed out remotely from Microsoft.
neoRhino can help you set up the perfect Microsoft 365 plan for your business.
Our Microsoft Gold-certified technicians are here to guide you to which M365 plan is best for your business, both in cost and capabilities. We can help you adopt and adapt to its new world of applications.
neoRhino is equipped to maximize your experience with Microsoft's 365 family of apps so you can keep your productivity at an optimal level. If you have questions or would like to speak with one of our associates about our services, contact us or give us a call at (281) 779-4850.